By Kal A., Sleep Late and Hike, Organizer
The most challenging hike for me was 110F for 12 Miles coming out of the Grand Canyon with a full 50 pound backpack.
I carried 4.5 liters of water. I drank all my water and the two bottles I had back in the car. I also carried many electrolyte packs.
What to consider when hiking in the sun:
Dehydration Part 1 – Water

Dehydration Part 2 – Electrolytes

Shade Part 1 – Head

Shade Part 2 – Upper Body
Dehydration Part1 – Water
Water is the most important. While most hikes in an 8 Mile range, 1600 feet and 80 F can be completed with about 2 liters of water, when any of these three parameters change more water is needed. Add a 1000 feet and add 1 liter of water. Add 10 Miles and add 1 liter of water. Add 15 F degrees and add 1 liter of water. When you are half out of water most of the uphill and distance should be behind you. If most of the uphill or distance is still in front of you and you are half out of water TURN BACK. Keep extra bottles of water in your car and out of direct sunlight. It is always great to drink a bottle of water when you get back to your car, before driving off. And, it a great morale boost to know that there is water waiting for you in your car.
Dehydration Part 2 – Electrolytes
If you find yourself on a hot day feeling dizzy, nauseated, or shaking while hiking it is most likely due to low electrolytes. When you sweat, you don't just sweat water but also electroytes such as salt. This why your skin tastes salty after sweating. You need not only replace the water you lost by sweating, but also the salt and other electrolytes. Your brain cells use salt to communicate, this is why you feel dizzy when low on salt.
Buy From Amazon
Shade Part 1 – Head
When hiking in the sun, it is important to consider where the major heat sources on your body are located. For example, when standing still 80% of your calories are consumed by your brain. Calories burned translates into heat produced. 80% of the heat produced while standing is from your brain. Now add that heat to the heat being produced by the sun on your head, and it becomes clear that the head is the most important part of the your body that must be kept cool. If your head is cool, you will feel comfortable. If your head is overheating, you will feel very uncomfortable.
As someone who has completed hundreds of hikes in the hot sun, hiking with and without a sun hat makes the difference between a pleasurable hike and a very miserable hike.
How to pick the right hat
When picking out a Sun Hat look for something that keeps the sun off your chin, nose, ears and neck. Also, it should have some ventilation on the sides of the head for wind to blow through the top of your head. Women may also look for a hole at the back for a ponytail.
Recommendations for women
My Ponytail Pick
Buy From Amazon
My Pick for Full Face Coverage with detachable face and neck cover
Buy From Amazon
My Unisex Pick
Buy From Amazon
Recommendations for men
My Pick for Neck Coverage
Buy From Amazon
My Pick for Full Face Coverage with detachable face and neck cover
Buy From Amazon
My Unisex Pick
Shade Part 2 – Upper Body
We have all experienced the hot and stuffy feeling of a 100% cotton shirt on a hot day, and would never consider a long sleeve cotton shirt on a very hot day. But, the same cannot be said for the latest polyester fabrics that provide wicking.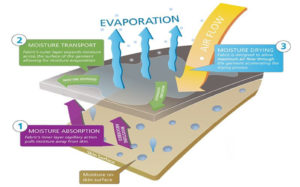 Wicking fabrics are modern technical fabrics which draw moisture away from the body. They are made of high-tech polyester, which, unlike cotton, absorbs very little water. Cotton will absorb 7% of its weight in water, polyester only 0.4%. Cotton will therefore hang onto your sweat, making your garment heavy and unpleasantly clammy. Wicking polyester has a special cross-section and a large surface area, which picks up moisture and carries it away from your body, spreading it out, to evaporate easily on the outside of the fabric. So you stay cool and dry.
Some people will refer to wicking fabrics as being breathable – that is, they let air in and sweat out. You'll see a lot written on garment labels about wicking properties, but read what they are telling you and it often amounts to no more than 'this fabric moves moisture away from your body'.
The two properties normally used to predict wicking performance in a fabric are capillary pressure and permeability.
Capillary pressure is the main force responsible for the movement of moisture along or through a fabric, where the force of the surface tension between the liquid and the walls of a narrow gap or pore overcome the forces between the molecules of the liquid, moving it into empty gaps until the forces even out. Permeability is the measure of a fabric's ability to transport moisture through itself, and is determined by a combination of sizes of spaces within it and the connections between the spaces.
Other properties that certainly do effect the wicking properties of a fabric include yarn twist (how threads in the fabric turn around each other), contact angle (between the fibre and the liquid), knit or weave (the larger scale construction of the fabric), yarn roughness and a whole lot more.
The shirt that I wear has wicking and anti-odor properties, and is rated UFP 50+ by the Skin Cancer Foundation.
My Wicking Shirt for Men in many colors
My Wicking Shirt for Women in many colors